I have been married for 16 years and there are still things that my husband doesn't quite get when it comes to being married to a nurse. Dating or being married to a nurse can both be good and bad, and no matter what relationships take work! If you have an idea of what to expect before dating a nurse or walking down the aisle, just sit back and read on.
Sometimes we just need quiet time and space!
Whether your an introvert or an extrovert, when you are a nurse sometimes you just need some time alone. You have just spent 12 plus hours talking to patients, families, doctors, labs, coworkers, and more! Many of your patients think your RN stands for Refreshments and Narcotics and use you as such. So by the time you are finally home, your patience and hospitality have been spent! So when the nurse in your life comes home and takes a shower, and hides under the covers for awhile. It is not you, they are just recharging and looking for a little peace and quiet! Don't take it personally.
They eat like their food is about to run off their plate!
Let's be honest, when we are at work sometimes lunches and snacks are hard to come by. There are times when we actually get a lunch and we are called away right when we sit down to eat. So it is either starve or shove it down! Then you have a belly full of regret! This can be quite shocking for your date. Sometimes you don't even realize how fast your eating, but your so used to eating on the run, that you are trained to inhale and run! Nurses are big multi-taskers because we have to be. Sometimes that means getting your lunch down on the go! This can be shocking to people who are not nurses.
There can be graphic dinner conversation! 
Guilty! Nurses sometimes forget that they are not with their nurse buddies and conversation can go way south! As nurses, we have seen and done a lot. So it can take a lot to gross us out. We cope with this by sharing our stories. Unfortunately, we don't realize just how gross something might be until we see the faces of our date, family, or friends!  Nurses also tend to develop a twisted sense of humor and this can really make people wonder about us!
Dates will be canceled or occasions missed.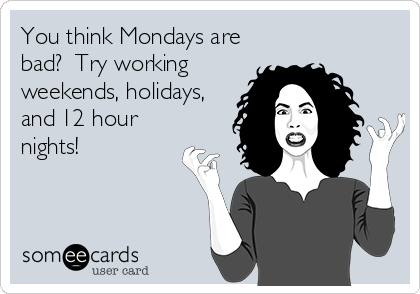 It is just the nature of our profession. We will have to work holidays and be scheduled when we really want to be somewhere else. We have to cancel because some of us are on call or we are called in because of short staffing. It is important for anyone dating nurses to understand this because it is a big part of our life. Even for those of us that are married, it can be a hard pill to swallow!
These are just a few things to know when dating or married to a nurse. There are much more for sure! So when we say it's the nurse life, you now have a small glimpse at what that entails.
Bonus: 
When a nurse finds out that they are also talking to a nurse, be prepared for stories to exchange like old war stories! There is nothing like talking to another nurse that gets it!