Do you really need to know the signs of nurse burnout! I think so! Having experienced it myself, I have found that it can really sneak up on you! Then you're left with confusion, exhaustion, and you don't know what to do! So here are 7 signs your heading for nurse burnout! And of course, all of these or just some of these might apply. If anything it might raise a red flag that something is a miss and you need to take heed! Also, am I in no way suggesting you quit your job, or nursing for that matter. I just want you to know the signs of burn out, and how to recognize the symptoms. You can do this by taking a break from your job if you can like a vacation, talking with someone, or maybe a job change is in order. That is okay! If you're like me, you cant afford to up and quit, I would think most people couldn't do that. But it can help to look at different specialties and see if a change could help!
1) Are you calling in a lot from work? So have you called in so much your starting to run out of excuses, and you start using some really weird ones like " My dog has the flu" " I can't come to work because I'm stuck in the house" or maybe " I tried a new recipe from the Food Network, and it was a fail, now I have food poison". Well, in theory, some of these could be valid excuses, but really if you see the increase in calling in and the dread of going to work, you could most likely be burned out.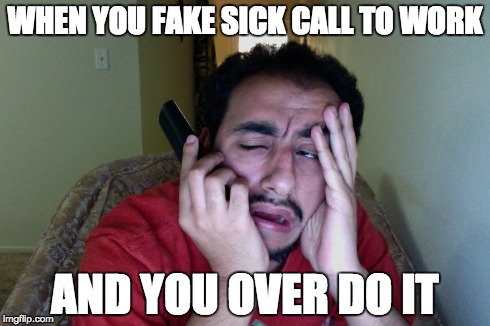 2) Your tired, not just the, I stayed up late and watched Game of Thrones tired. I am talking no amount of sleep can cure this tired. When I get stressed I can sleep for over 12 hours and still not feel like I got any rest. Especially on days after I work. This can also be a warning sign of nurse burnout. Of course, it can also be you can't sleep! I have also been through this. It seems to be a cycle of no sleep, then excessive sleep. It is important that you get the rest you need, but if you feel like you just can't get enough, then it is worth thinking about nurse burnout as the cause.
3) Anxiety, panic attacks, and depression oh MY! This is a sign for sure something is not going right in your life. It could be nurse burnout. If you haven't experienced a panic attack consider yourself lucky! They are horrible. Mine started this year, mostly in relation to things happening outside of work, but it didn't help with my nurse burnout. It is important for you to slow down and really find out why the anxiety, panic attacks, and depression is happening. Especially if this is a huge change for you. Sometimes there can be no specific triggers, but you need to take care of yourself regardless. It just might mean taking a break, talking to a counselor, or medication. Whatever it takes to take care of you!
4) Sickness, sickness everywhere! Are you getting sick more than usual? This is a big sign from your body telling you something is wrong. Stress over time can run down the immune system which will leave you getting sick all the time. I noticed I would get colds all the time. One would end and another would begin. It was miserable! If you start noticing you're getting sick a lot see your doctor of course, but you might want to reassess the stress in your life also.
5) Has your family used terms like mean and irritable to describe you? Maybe some other colorful language! Well, personality changes can be a direct result from nurse burnout. Sometimes your family and friends are the first ones to pick up there is something not quite right. I remember my son asking me if I had a good day or bad day at work, every-time I got home. I asked him why he does this, and he said he could tell my mood was changing, and if I had a bad day he didn't even bother to ask me something. That was a wake-up call! Especially, when I started having more bad days than good!
6) You absolutely dread going to work. We all have days where we don't want to go to work. I am talking so much dread you can't sleep, or you fantasize about running away. On my way to work one time I drove by an airport. I thought to myself, I could totally buy a one-way ticket to just about anywhere, and get out of work. Of course, I went to work, but it made me realize, wow! I need a change!
7) Feeling under appreciated is also a common sign. Some of this is normal, but when it gets to a point were your feeling more underappreciated than happy, it could be nurse burn out. Nursing is a thankless job. When we do get a thank you it's awesome. Or if someone tells you your a great nurse, wow! Maybe, even those compliments are going in one ear and out the other. Because you're burned out, you focus more on the negative and the positive you miss! This could also be a red flag that you are in or heading for nurse burnout. Of course, it does take some examining, because it could just be the work environment your in. Either way, some assessing, and change could need to take place.
I hope some information was learned about nurse burnout and how to recognize the symptoms. Nurse burnout should not be ignored because the symptoms and warning signs will just increase. It is my hope for you, that you catch it early and take care of yourself. We need good caregivers and in order to keep them, we need good caregivers taking care of themselves. That was a long hard lesson for me to learn!