Well after the sad story of part 2 of my nursing career, I figured we could all use a laugh! Really, laughter for me has been a god send! Comedy and humor has got me through some of the darkest times in life. So I bring to you several of these memes that I have found over the years that are nursing related, that make me LOL! Like, for realz laugh out loud! Unfortunately, I did not create any of these! Some very smart people out there in the Internets did, and thank god for them!
We all know that one person that says this…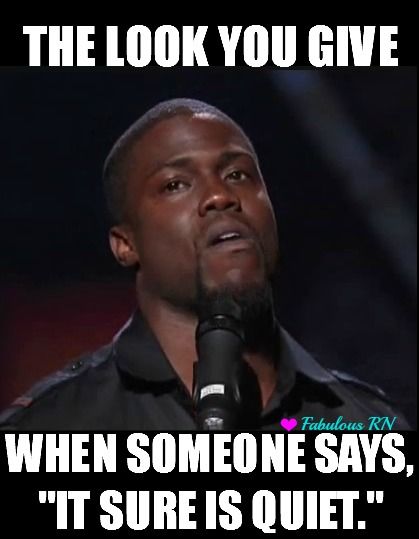 2) Am I the only one who thinks like this…
3) I have worked both shifts ,so I am allowed to think this way, Ha!
4) This was the look I pretty much had all day every day at the hospital!
5) That right there is funny, and only a nurse can say LOL! (and for inquiring minds, yes both has happened to me)
6) I always worry how the stress is going to effect me! Then I worry, that I worry to much lol!
7) There is truth to this!! Ask anyone who works a full-moon! I keep track of them now that I am on night shift!
8) Yep, pretty much sums up most shifts
9) Say what?! Can I get a new patient, trade maybe…do we trade here?
10) And when we finally get to leave…
These were all in good humor! Hope you all enjoyed! I love my patients. Really, over the years they honestly are what keeps me coming back! And of course some wonderful co-workers! Until next time! Nurse on!